More information: https://bit.ly/3PwBWSA
Another lever that can be used to override authoritarian and exclusive structures is – and this is what Museum Exhibitions and Suspense advocates – to take entertainment more seriously than ever. (p. 1)
When I started working as a curator over 20 years ago, it was just becoming common to call exhibitions narratives. I was sceptical. It would be fantastic if exhibitions actually worked like stories because content can be wonderfully wrapped in stories. But did not exhibitions function quite differently from films or novels? The answer of my research, which I present with my book, is: yes and no. There are indeed differences, but also crucial similarities. That is why the screenwriting techniques that film writers use to create suspense can also be used to curate museum exhibitions. My book explores how.
Als ich vor über 20 Jahren begann, als Kuratorin zu arbeiten, wurde es gerade üblich, Ausstellungen als Narrative zu bezeichnen. Ich war skeptisch. Zwar wäre es fantastisch, wären Ausstellungen tatsächlich Geschichten. Denn Inhalte lassen sich wunderbar in Geschichten verpacken. Aber funktionierten Ausstellungen nicht ganz anders als Filme oder Romane? Die Antwort meiner Forschung, die ich mit meinem Buch präsentiere, lautet: jein. Es gibt tatsächlich Unterschiede, aber auch entscheidende Gemeinsamkeiten. Deshalb lassen sich die Drehbuchtechniken, die Filmautor*innen verwenden, um Spannung zu erzeugen, auch für das Kuratieren von Ausstellungen nutzen. Mein Buch zeigt, wie.
#storytelling #suspense #museum #curating #Hollywood #screenwriting #edutainment
Events & more
Book launch Villa Freischütz, Merano
Am 13. April 2023 präsentierte ich Museum Exhibitions and Suspense in Kooperation mit dem Südtiroler Museumsverband in der Villa Freischütz in Meran. Marlene Messner, Geschäftsführerin des Verbandes, stellte mir viele spannende Fragen.
On 13 April 2023, I presented Museum Exhibitions and Suspense in cooperation with the South Tyrolean Museum Association at Villa Freischütz in Merano. Marlene Messner, managing director of the association, asked me exciting questions.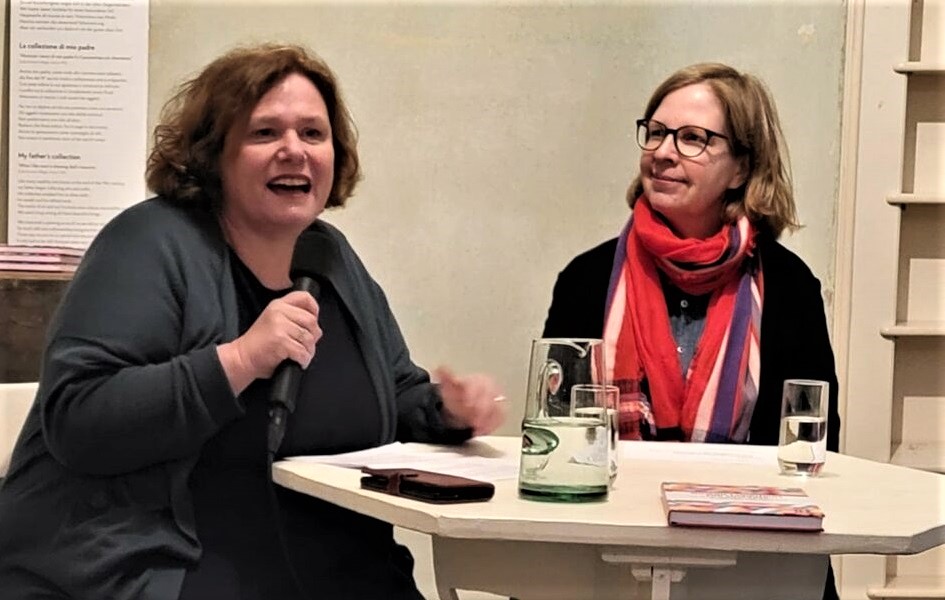 Marlene Messner & Ariane Karbe
Interview (in German)
Aus Anlass der Buchvorstellung führte Elisa Tappeiner ein Interview mit mir für das Radiomagazin von RAI Südtirol.
On the occasion of the book launch, Elisa Tappeiner conducted an interview with me for the RAI South Tyrol radio magazine.
Rai Südtirol Radiomagazin: Kultur am Freitag vom 28. April 2023 mit Nina Schröder